Shoreline-LakeForestParkPatch
, September 14th, 2011. By Ginna Luck
Read the article online
After 20 years of experience roofing all over France, London and even Haiti, Philippe Pollien moves to Shoreline and opens his roofing and sheet metal business, using his European techniques and materials.
Philippe Pollien has made a home in Shoreline far from his original home in Valence, a little town in the South East of France. He moved to Shoreline six years ago and opened
European Roofing and Sheet Metal LLC
last August, bringing 20 years of experience installing and building European traditional stone roofs to many houses in the Seattle area.
"My company specializes in metal roofing – copper, zinc and slate tiles. I try to use European techniques," Pollien states.
He also installs copper gutter systems and is a very skilled metal artist. In his spare time he's built a copper replica of the Space Needle that sits about seven feet tall on the corner of his Shoreline property.
Pollien got into this business in the late 1980s after he finished school in France. He didn't know what career path he wanted to follow until met a roofer and talked with him for over two hours. At the end of their conversation Pollien had found himself a job. He went on to have seven years of training throughout France and England with the renowned
Les Compagnons du Devoir.
"They offered to help me learn roofing techniques and required me to change towns every six months. In France each roof is different and I learned the technique along side people who had done this work for years," he claims.
After he arrived in the States he worked for
Jorve Roofing
.
A
t the time Pollien could not speak English very well. His employer told him they didn't have to speak much but wanted him to prove with his hands what he could do. He proved he had a true talent and some of his co-workers mentioned he should open his own business, specializing in his European roofing.
He took on the challenge and has been working successfully on his own, doing what he loves. He hasn't hired anybody yet but hopes to in the future.
"I want to build a good foundation and after that maybe hire somebody," he states.
Pollien also would love to hire a French roofer who had worked one year with the association "Les Compagnons du Devoir" to give a young French roofer a chance to know the American culture.
During his time with that association, Pollien lived in five French cities and ended up in London in 2000. While there he built a dome made of copper and went on to do a similar ornamental dome in Haiti in 2003.
Here in the states Pollien hasn't built any domes but uses the intricate designing techniques and the same materials he used while in France.
He has clients all over the surrounding area. His last project is a curved copper bay window for the contractor
Charter Construction
in West Seattle. He also has a project to be a VM ZINC instructor, where he'll teach other roofers how to install French metal properly in this climate.
"We use a lot of copper and zinc," he states.
Unlike copper, zinc can be soldered. The finishing lasts longer, since Pollien can make smaller pieces to closely fit each piece together and guarantee waterproofing.
When asked what the most difficult aspect of his job he thinks hard for a few seconds and then replies, "nothing, I love what I do."
Note from Philippe about the article:
Ginna misunderstood me when she stated: "Unlike copper, zinc can be soldered".
Copper, zinc and stainless steel can be soldered.This is one of the specificty of the work I do: I do on-site solders as much as possible, which makes the metal connexions much more waterproof, lasting longer, and looking better. This is a skill that requires time and effort to master, and I am glad I benefited from the training with Les Compagnons du Devoir. It is sad there is no such great training in the USA yet.
Customer reviews

This letter is my personnal recommendation for Philippe Pollien, of European Roofing & Sheet Metal, LLC. He was originally referred to me by a co-worker, as I had been having difficulty finding a consistent and knowledgeable roof specialist to maintain our European tile roof.
Philippe has done both tile and metal work for us. He is pleasant to work with, professional, punctual, and accomodating. An expert at his craft with a great deal of integrity, he takes pride in quality work. He's very good at accurately estimating the time and material cost of work to be done, and is forthcoming and honnest when unforeseen problems arise.
I'm pleased to know that I now have a professionnal in this area who really knows how to properly maintain and repair European-style roofs. Many roofers claim to know what they're doing, but few actually do. I rely on Philippe for, quite litterally, maintaining the roof over our heads. I've also been very impressed with the quality of work he does with metal crafting. So far he's only done roof-related metal work (ie, chimney caps, replacement flashings, skylights and fireplace surrounds). but I have confidence that he will do excellent metalwork for us in the future when need arise. I wouldn't hesitate to call upon him again.
Philippe is a man of integrity, and a very reliable contractor. I look forward to an ongoing contracting relationship with him moving forward. I'm pleased to recommend him.
Jacqueline B.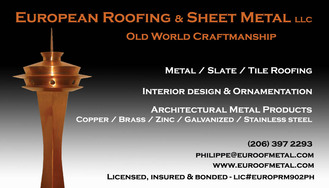 European roofing & Sheet Metal LLC
Phone: (206) 397 2293
Philippe@euroofmetal.com

Licenced, insured & bonded - LIC#EUROPRM902PH
---