We specialize in metal roofing, vertical metal paneling, copper gutter systems and ornemental sheet metal work
We are proud to install waterproof, long lasting, perfectly realized roofing and siding systems. We use traditionnal and modern roofing and sheet metal techniques that have proved waterproofing efficacy and demonstrate superior quality and esthetics.

No job is too big or to small for us: we can fix a leak on your roof, install a new metal roof on an existing or new construction, install metal siding or interior panneling systems, as well as custom-made kitchen and bathroom metal countertops, range hood, fireplace face and mantel, and even decorative and functionnal metal boat accessories !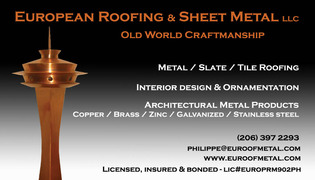 European Roofing & Sheet Metal LLC
Phone: (206) 397 2293
Philippe@euroofmetal.com
Licenced, Insured & bonded - LIC#EUROPRM902PH
---