Give the high quality and esthetics of traditional European techniques to your roofing and architectural metal projects !
European Roofing & Sheet Metal LLC is committed to providing you with the highest quality of roofing and architectural sheet metal work, using
copper
, brass,
zinc
, aluminum, stainless steel, galvanized steel, or steel, as well as
slate
or tile. Whether you are in Seattle, Bellevue, Shoreline, Redmond, Kirkland, Issaquah, Mercer, Bainbridge or Vashon Islands, or anywhere in between, our roofing and sheet metal work will enhance the charms and esthetics of your house or building with high quality, waterproofing and expert craftsmanship.
Philippe Pollien, our sheet metal and roofing expert, has more than 20 years experience in the roofing industry in Europe and the USA, and 7 years of intensive training in France and England for traditional and modern European techniques.
We specialize in complex roof systems, and perform on-site solders to insure better waterproofing and perfect architectural fitting.

We have restored historical monuments, installed new or replaced exiting roofs on residential homes and commercial buildings, realized metal sidings, and performed interior sheet metal design projects (zinc and copper countertops, range hoods, metal fireplace face and mantel, etc...).

No job is too big or to small for us: we can fix a leak on your roof, or help you increase the value of your home by installing a new metal, slate or tile roof on an existing or new construction, install exterior or interior panneling systems, as well as custom-made metal kitchen and bathroom countertops, range hood, or cabinets, and even decorative and functionnal metal boat accessories !

With European Roofing & Sheet Metal LLC, you will get top quality work that exceeds your expectations for a fair price !

Contact us today for a free estimate ! Expert craftmanship, excellence and customer satisfaction are our priority !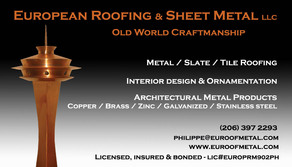 European Roofing & Sheet Metal LLC
Phone: (206) 397 2293
Philippe@euroofmetal.com

Licenced, insured and bonded - LIC#EUROPRM902PH
---